Serving Marlborough for over 24 years!

When severe storm damage came to the PA/NJ/NY tri-state area, Above and Beyond Unlimited Cleaning was already there to help. Founded in 1998 and committed from the beginning to finding the best staff and giving them the best tools and knowledge available, from our primary location in Philadelphia County our 8 trucks and more than 20 employees serve Marlborough PA and all of the tri-state area. We take on any situation. No problem is too big or too small. Pick up your telephone any time, 24/7, to contact our team of inspectors and start finding out just why we are Above and Beyond.

Learn more about » Company | Certifications | Testimonials
Mold Inspection & Testing Marlborough PA

After the wind ends, after the flood waters drain away or are pumped out, within twenty-four to forty-eight hours mold spores can begin growing in your home or commercial building, according to the EPA. Fast response is essential and Above and Beyond Unlimited Cleaning offers a 24-hour response service.

Any inspector from our company who visits you has certifications, (Micro-CMI, RSA), and advanced detection equipment such as thermal image detectors, air pumps with test cartridges, and sealed specimen dishes for visible mold samples. Then an independent third party laboratory determines what mold your home has -- if any.


Mold Remediation & Removal Marlborough PA

Since 1998, our entire staff at Above and Beyond Unlimited Cleaning have been certified experts in mold remediation. We are licensed, bonded, and fully insured. Mold containment, removal, and prevention requires advanced skills, but not everyone who says they can do it is certified. Neither the state nor the federal government regulates mold remediation directly. Just like hiring a person "off the street" to restore your electrical service or fix broken pipes might result in work that was not "to code", or just unsafe, hiring someone uncertified to combat mold could put both your finances and your family's health at risk.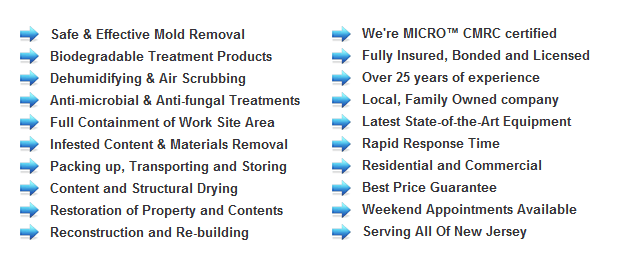 Flood & Water Damage Restoration Marlborough PA

After a major storm, local and national television news carries many scenes of distressed home and business owners surveying the damage that water has done. Perhaps one of those was your neighbor. Perhaps yourself. We can help, professionally. With the highest standards and the best prices. Calling Above and Beyond Unlimited Cleaning brings in a company with over fourteen years of experience with damaged properties and their owners.

Our goal is to walk with you through restoration, step by step, bringing the highest in technical and ethical standards to bear on your situation -- but only what you really need.

Visit contact us page or CALL us now (610)297-4201 for immediate response.
Search tags:
Mold Inspection, Water Damage Restoration, Mold Cleanup, Flood Clean up, Mold Testing, Mold Removal and Mold Remediation in Marlborough Township PA 18054, 18348 in Montgomery County Pennsylvania.
Additional resources

»

Official Marlborough site Marlborough's Wikipedia page